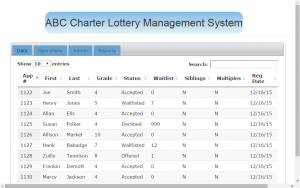 Are you seeking a clean, basic web-based system for accepting and managing applications and a lottery for admission to your Charter School or organization?
Do you need a basic solution and not a premium one at a corresponding lower price?
The School Lottery Management System
SLMS is a web based application where you enable your applicants to register themselves for an entrance lottery via a web/mobile/tablet front end. The applicant's registration ends with a confirming email and a results screen.
During the registration period, as an administrator, you can comb the full set of data looking for and fixing errors, duplicate entries, incorrect birth dates and grades and other problems.
After the lottery, you can continue to manage the data as well as the acceptance/wait lists. Applicants can also see their current status and waitlist position.
You have complete control over SLMS in regards to user access, application open and close dates, message text, managing imports and exports and more. We offer statistical and potential problem data reports helping you better manage your lottery. SLMS is offered as a service at very competitive rates and is available today.
References are available. Contact us for more information.
Benefits:
Simple to learn and use
Self-intuitive user interface
Stores all applicant entered data into a database (no handling spreadheets)
Keep up with registration edits as they occur.
Easily manage your wait-list and accepted lists
Applicants can lookup their own results.
Works from any browser, tablet or smartphone.
Secure.
Training and support included.
Features:
Powerful searching to find incorrectly added students
Email confirmation back to applicant w/CC to admin.
Manage the wait-list and position shuffling
Nightly publishing allowing wait-list mistakes to be undone before publishing
Full audit trail
Nightly database backups
Manage admin users
Manual entry of registrations for paper applicants
Reports: Applicant status breakdown, Student age to grade mismatches
Handles siblings and multiples
Call us today for more information.