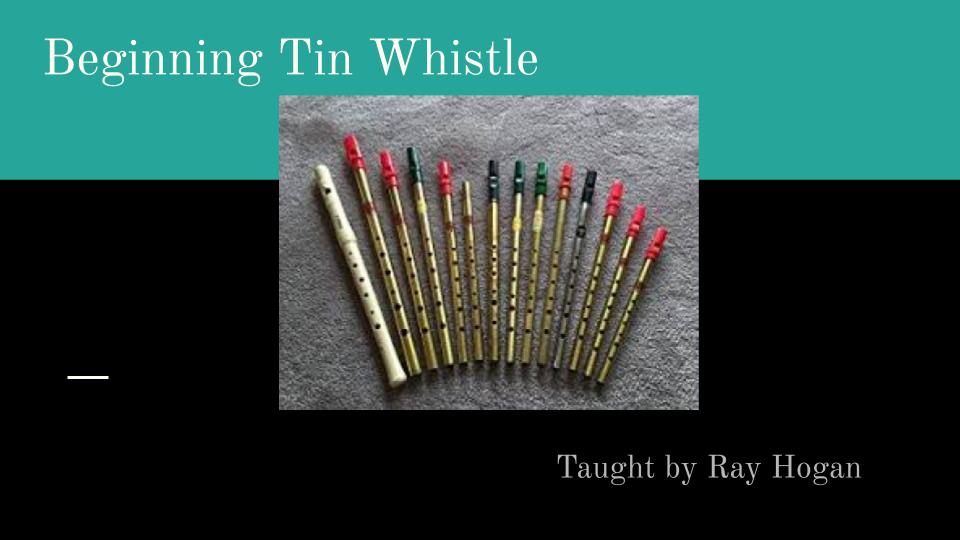 Looking for the Fastest, Easiest way to learn the Tin Whistle?
Sign up for classes taught by a top notch instructor who has eliminated all the music theory, music reading and jargon to give you only the essential "What to do, and how to do it" to get you playing as quickly and with the least amount of frustration possible.

In this class you will learn
How to hold the whistle
How to blow into the instrument
The core set of notes (fingerings) covering 99% of all Irish music
Exactly how and what to practice and how to know when you are ready to move to the next lesson
How to read the diagrams so you can learn tunes by yourself
2 Ditties
4 Irish Tunes
When and How to take breaths while playing
Classes are taught by Ray Hogan who has taught dozens of kids and adults how to play the whistle in person. From that experience, he knows what the common mistakes are and how to overcome them and focuses his students on the things that get the best results fastest. Ray is both a good Tin whistle player and more importantly, a great teacher. See videos here.

Now you can learn through his videos AND also get personalized instruction as part of the package (with a $5 savings). Both are available separately as well. and you can buy multiple virtual instruction sessions.
Sign up Today to begin learning how to play this deeply traditional Irish Music instrument.

There is a 30 Day money back guarantee of satisfaction.